Description
OP AMP IC
CA3130 is a BiMOS operational amplifier IC with MOSFET Input and BiMOS devices have advantages of both bipolar and CMOS transistors. Bipolar transistors can perform fast switching and perform well under high bandwidths. On the other hand, CMOS OP-AMP consume less current. The CA3130 consists of PMOS transistors at the input and CMOS transistors at the output. These transistors provide the advantages of high impedance, high speed, less current consumption, and high bandwidth. It has a multitude of applications.
OP AMP IC CA3130 Pin Configuration Diagram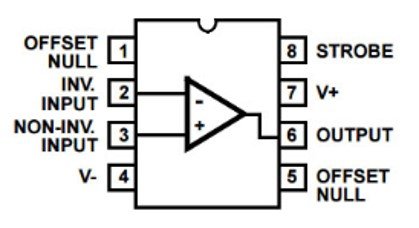 OP AMP IC Description
Pin# 01, 05: OFFSET NULL
When the input pins of the op-amp are connect with each other, the voltage at the output should be zero. But no operational amplifier is perfect. Therefore, there is a small offset when the two inputs are shorted together. The offset null pin is used to null these offsets by applying the voltage between the two input terminals of an operational amplifier to null the output voltage.
Pin#2: INV. INPUT
It is the inverting/negative input terminal of the operational amplifier integrated inside the IC.
Pin#3: NON-INV. INPUT
It is the non-inverting/positive input terminal of the operational amplifier integrated inside the IC.
Pin#4: V-
It is the connection for ground or negative power supply.
Pin#6: OUTPUT
It gives an amplified output signal.
Pin#7: V+
It is connect to a positive power supply.
Pin#8: STROBE
This pin is use to s
100% satisfaction guarantee:(op amp ic)
We offer you to 100% satisfaction guarantee on our products. So, If you have any problem with our products then please contact with us and we will be happy to solve the problem for you.
Equally Important that Customer satisfaction is our highest priority.
In addition, our every products that we sell has a strict quality inspection. So that, If you want to buy our products then do not hesitate to add them to the cart and buy it. Correspondingly, We are committee to providing you best products and services.
---